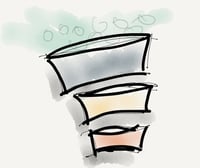 Among marketing and sales management, the analogy of a funnel has been around for a long time. Essentially, it tracks the progression of a prospect as they move through each phase of the buying process, from awareness to satisfied customer. Each company will have its own variation, depending on its unique situation, target audience, product/service offerings, buying process, etc. And with today's digital marketing strategies, the analogy has never been more accurate. With digital marketing efforts, there's no shortage of data. In fact, the difficulty can be too much information. Using a simple, three-part structure like a funnel helps you target specific areas of your strategies to determine what is working and what needs to be improved.
Here's a quick break down:
The 3 Core Phases of the Digital Marketing Funnel
1. Reach
The top of the funnel involves "reaching out" and "getting found", having your content, message, or business in front of the folks that need and are looking for the products and services you provide. In traditional marketing, it was the broadcast and print advertisements, direct mail, and yellow page listings you created. In digital marketing, it's involves your website, blog and the social media channels you use. Reach is how you initially get in front of the right people and in the right place.
In this phase, key metrics can include search engine rankings for targeted keywords, organic and pay-per-click impressions, and the number of webpages, blog posts, videos and social media posts you are publishing. If you're sending out regular emails, the open and click rate will also give you an idea of how effectively you're connecting.
2. Engagement
The middle of the funnel looks at engagement metrics. Once you've connected with them, you want to interact with them. You can look at time on site, page views, downloads, video views, social shares & likes, bounce rate, etc. You want to get a sense of how people are interacting with your brand, how they move through the site, and be sure you are implementing the best practices in web design and content creation.
3. Conversion
A conversion takes place when the targeted audience completes an action you want. You can define what conversion looks like based on what your business needs. Are newsletter subscriptions what you're after? Maybe document downloads or demo requests are what you're looking for. You can determine what a successful conversion, from lead to contact or contact to customer, looks like for you.
Measuring each phase of the online marketing funnel is is critical.. Every phase of the funnel, every effort you make, can be analyzed to see what works and what doesn't. Focusing on the three core phases of the marketing funnel, and keeping track of key metrics in each phase of the buying process, provides invaluable insight into what's working, areas to improve, and opportunities for the future